START YOUR OWN SOLE PROPRIETORSHIP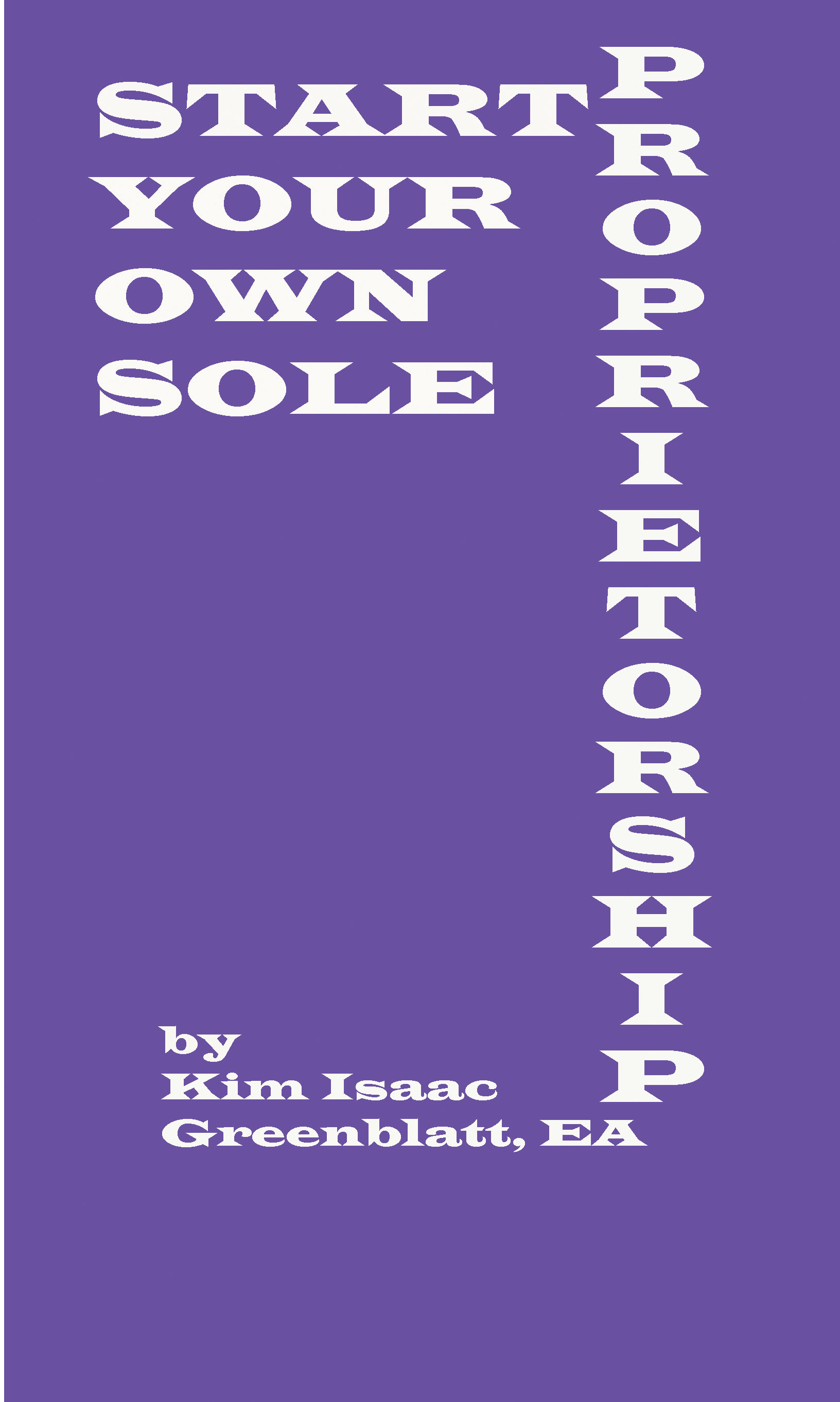 Want to start your own business? Out of work? Underemployed? Kim Isaac Greenblatt's new book, "Start Your Own Sole Proprietorship" will get you moving with straight forward information about starting a business up on your own. You will learn that of the many business entities that you can choose, the Sole Proprietorship, offers an easy way to get started with a business with minimum fuss. The book also talks about filing a Schedule C, the Self Employed business person's form for their Federal Taxes. Chapters of the book include:
WHAT ARE THE TYPES OF BUSINESS ENTITIES?
NO MONEY, NEED TO WORK, NO TIME FOR BUSINESS YET
THINGS YOU SHOULD CONSIDER WHEN PICKING A BUSINESS
MAKE MONEY DOING THINGS THAT PEOPLE HATE TO DO
THOUGHTS ABOUT HOW YOU RAISE MONEY
WHAT'S AN EXIT STRATEGY?
WHAT'S A SOLE PROPRIETORSHIP AND WHY DO I WANT ONE?
ARE YOU A HOBBY OR A BUSINESS?
WHAT'S A BUSINESS PLAN?
KNOW YOUR MARKET
TIMES YOU MIGHT NEED TO FILE WITH A SCH C
SELF EMPLOYMENT TAX SUCKS BUT YOU HAVE TO PAY IT
THE SCHEDULE C WALK THRU
SCH C INCOME
SCH C EXPENSES
HOME OFFICE EXPENSES AND SELF EMPLOYMENT TAXES
READY, SET, GO SOLE PROPRIETORSHIP, GO!
For less than the price of a dinner, get the book that will help you save thousands of dollars and hours of headaches. As all of Kim Greenblatt's books, a portion of all sales go to research a cure for Rett Syndrome. Rett Syndrome affects a girl born every fifteen minutes. Boys born with the Rett gene die at birth. Kim Isaac Greenblatt is an Enrolled Agent. He is also a businessman and author of over 14 books including, "Bad Tax Idea, Good Tax Idea", "Practical Money Making" and the "Greenblatt Business Expenses book".
Known Typos and Fixes with the Book:
On page 72 of my book, the image that shows a clip of the business codes came out black despite trying to save the image in black and white, grey scale or color. The code I use is mentioned in the book and the image will probably be removed when I get to another edition. The link from the image is still good if you want to see the document it came from. Here is the image if you are interested.
START YOUR OWN SOLE PROPRIETORSHIP published by Kim Greenblatt is out now. The price is a very reasonable $9.95 plus shipping and handling. California residents will have to pay sales tax. You can order the book in the United States of America here:
It is also becoming available with Amazon, Barnes and Noble and can be ordered from fine bookstores anywhere.
Drop me a line if you have any questions (email is at the bottom of the page and in the Subject section put "Start Your Own Sole Prop" or you will not make it through the spam filter), comments or things that you wanted to see in the book. )
***** PART OF ALL SALES GO TO RETT SYNDROME RESEARCH.*****
I HAVE WRITTEN BOOKS ON POKER, BUSINESS, TAXES AND SURVIVING THE FINANCIAL CRISIS WE ARE LIVING THROUGH. FOR MORE INFO PLEASE click here.

ISBN Complete: 978-1-60622-006-1
EAN: 9781606220061
Title: Start Your Own Sole Proprietorship
Publication Date: 5/3/2011
Street Date: 05-04-11
Language: English
Price: $9.95
Suggestions or comments? Please email the author at kimg@kimgreenblatt.com