Boo!  Happy Halloween!  It may be a scary Halloween for you but probably not because of ghouls, ghosts or demons.  If you are in debt, have money problems, are laid off, dealing with special needs you already have plenty to make you want to scream.  Even though things may look dismal and you aren't making any money, take the time to learn to relax.
If you look at your fear and break it down (and yes, it is easy to intellectualize and tough to implement without getting scared), you will see that at worse case, you may end up on the streets.  If that is the case, start looking for social service organizations, charities or any group that can help you make it through the bad times.
Feeling suicidal?  There isn't anything that will guarantee that the fear you are going through now will be resolved in the afterlife and they may not give you a decent line of credit in Heaven or Hell if you check out now.  In all seriousness, please talk to a counselor, a spiritual advisor or anybody to make it through the tough times.
Winter, coupled with the holidays plus no money equals depression.  I am not talking about the Recession Depression we are financially going though here, folks, I am talking about coping and making it through the lousy feelings of self-doubt, self-loathing, and any fears that make you feel lousy.  Get together with friends and if you don't have friends – hang out in some safe crowds. 
Volunteer if you are able to.  There are always people less fortunate who could use a hand.  If you need the hand yourself, please swallow your pride and seek out any groups that can help you provide food, clothing or shelter if you need it.
Treat your family and yourself to something inexpensive and fun.  If you can, I hope you are celebrating Halloween despite the economic uncertainty that is looming ahead of us.  If you are stashing cash away, you are in good shape.  If you are able to barter for goods and services, that is good too since a lot of other people don't have cash either but maybe you can trade skillsets to help one another.
Make sure that your kids are safe, don't eat any unwrapped candy and remember that strangers are danger. And speaking of a very strange stranger……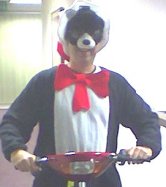 Please note that if you see this guy driving up on your porch, make sure you give him only small "fun size" pieces of candy since he is trying to watch his diet.  Have a safe and fun time and keep saving money. While you are at, try and relax (and I know it is hard) so you can save your sanity as well. You and your family will appreciate it (even if the effects aren't immediately visitble) It can add years to your life!
Buy some of Kim In The Hat's books here and know that part of all the book sales proceeds go to research a cure for Rett Syndrome.
Kim Isaac Greenblatt
Ready, Set, Boo!