A question from a reader:"Why is Married Filing Separately such a bad thing?  What happens if the marriage just isn't working out?"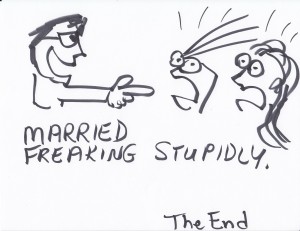 My answer is that this question gives me the perfect opportunity to get my comic strip chops working again. Okay, the drawings are bad but the content is funny. I have already been told that I have a bleak outlook on the institution of marriage. Not at all. I just see the humor of it in my own life and in others who are getting their taxes done. My wife laughed at it. She is one of my biggest critics so I might be onto something getting in shape for my graphic novel.
Back to the question…
Married Filing Separately does not allow the person (or persons) filing to maximize the deductions, credits, etc that they could get by either trying to see if they can put aside their differences one last time for tax purposes by filing Married Filing Jointly (MFJ). Don't get me wrong, there may be very valid reasons for people to want to avoid filing with a spouse – they have left him/her, the spouse was discovered doing something illegal, etc. The unfortunate thing is that in community property states you may have problems that filing Married Filing Separately (MFS) won't help with.
You start getting into "first strike" tax filing where whoever files first gets to call the shots for the other spouse.  What does that mean?  If the first spouse files and itemizes, that forces the other spouse to itemize even if that spouse didn't have enough deductions and was better off taking the standard deduction.  In California because of it's particular community property laws, you divide the Schedule A items in half evenly unless there were separate items brought into the marriage beforehand, etc. A lot of credits get thrown out of the window immediately and by virtue of filing MFS you throw yourself into a tax bracket that ends up paying more money.  Ugh.
Shared property or community property is a very big issue to take into account as well.  What factors should you consider to determine if community property rules apply? 
The three primary factors that IRS examiners look at are: 
1. Is there a legal marriage?
2. Are the spouses domiciled in a community property state?
3. Was the property acquired before (or after) the spouses were subject to community property laws?
This is just the tip of the iceberg. Where people live or domicle comes into play as well. 
Why is domicile so important?  
Whether you have community property and community income depends on the law in the state where you maintain your domicile.  For example, if you earn a pension while domiciled in Texas, future distributions from the pension will be community income.  The pension is community property to the extent it was earned while your domicile was in Texas. If you earned the pension while domiciled in Oregon, distributions will be separate income.
For now, as of this post, you also have to mail in Married Filing Separtely returns in the state of California. You cannot electronically file them so that would delay getting a refund.
To answer your second question, if the marriage isn't working out, the couple (or at least one party in the relationship) is probably trying very hard to get out of the situation similar to a coyote gnawing off his or her leg to escape a trap. There may be financial reasons or social-family reasons that the divorce just can't happen yet. It isn't from lack of trying from one or both of the parties, it is just that the realities of the situation may not allow it to happen yet for whatever reason.
It is also a good idea to not listen to bad advice about MFS.  There seems to be a great deal of it out there. If you take away nothing else from this article, make sure that you talk about money, relationships, your spending habits and everything else with your potential soulmate before you get married.  It will save you time, aggrevation, alimony, child support, restraining orders and perhaps a felony charge or two.
Practical Money Making-Surviving Recession, Layoffs, Credit Problems, Generating Passive Income Streams, Working Full Time or Part Time and Retirement
Kim Isaac Greenblatt
Married Filing Separately and the first Taxing Funnies comic.