Here are some of the upcoming tax law changes for 2009.  Basically, it also shows you what is changing, expiring, etc from 2008 and what you might need to keep track of.
 AMT (Alternative Minimum Tax)
The AMT exemption amounts have been expanded to $46,200 ($69,950 MFJ).  That makes them up from the 2007 amounts of $44,350 ($66,250).  Here is a nice surprise:  the child and dependent care credit, education credits, home energy credits are allowed for both regular tax and AMT.  That is a good thing and a welcome relief.
The portion of unpaid tax, penalties, and interest that was outstanding before 1/1/2008 that is attributable to an ISO exercise is abated.  That may or may not affect you (I am banking that for most people it is a non-issue).
Changes were made so that long-term unused minimum tax credits are  to include previously-paid penalties and interest related to ISO exercises.  I hope I got that last one straight.  If you are another tax professional and interpret that differently, please let me know.
The refundable AMT credit has been modified to the greater of 50% of the long-term unused credit (up from 20%) or the prior year's credit.  The income limitation on the credit may be removed (nice!).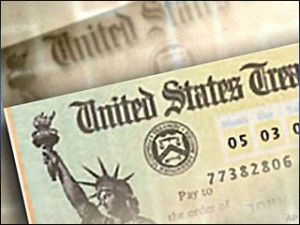 For 2008 only, the refundable child tax credit is expanded.  The earned income floor is reduced to $8,500 (will be $12,050 without this provision).   Individuals may be eligible for the child tax credit who earn at least $8,500. The maximum benefit from this change is $533.
The wind energy credit is expanded to include small wind energy property which uses a small wind turbine to generate electricity. The maximum credit is $4,000 and that is great for people in areas where they can use wind power, not so great for those who don't get enough wind to use as a renewable energy source.  If you live in wind or tornado alley, start thinking about wind energy if you can afford it and it makes sense financially for you.
If you are itemizing, you may not have to anymore.  Nonitemizers may claim an additional standard deduction for state and local real property taxes paid for tax years 2008 and 2009. The maximum deduction is $500 ($1,000 MFJ).
There will be a new Refundable First-Time Homebuyer Credit.  Taxpayers who purchased a principal residence April 9,2008 through June 30, 2009, and who have not owned a principal residence in the previous three years, may claim a refundable credit equal to 10% of the purchase price. The maximum credit is $7,500 ($3,750 MFS). Eligibility for the credit phases out for modified AGI between
$75,000–$95,000 ($150,000–$170,000 MFJ). The credit is repaid in 15 equal annual installments starting in 2010;  repayment is accelerated if the home is sold or no longer used as a principal residence.  Taxpayers must understand repayment requirement.  Recordkeeping may be difficult. The credit is claimed on new Form 5405 – more on that as it gets developed.
I have a friend who is becoming a first time home buyer and it will be something great in this economy that can help him and his taxes.  I still am a little fuzzy on how developers are working angles on this – more as I find out more. 
The so-called "Kiddie tax"  now applies to:  Children who are under age 18, Children who are age 18, unless they provide over half of their own support based on earned income, and Children ages 19-23 who are full-time students unless they provide over half of their own support based upon earned income.
What is new for Section 179 Expense Information?   The maximum §179 deduction for tax years starting in 2008 is $250,000. A phaseout of this amount starts when more than $800,000 of qualifying property is placed in service during the tax year. Note: Special rules apply to certain disaster areas.  This only affects businesses that place a large amount of assets into service in one year and have sufficient income that allows the deduction.
Depreciation is being tweaked as well.   Additional first-year 50% "bonus" depreciation is the default provision for property placed in service in 2008. Note: Special rules apply to certain disaster areas.  This will help out business owners.
Remember that money you got earlier in the year?  Forgot it already?  That was the Recovery Rebate Credit.  The rebate that was paid in 2008 will be reconciled on the 2008 tax return. Taxpayers will receive any additional credit due, but need not repay any "excess" credit received.  The credit will be claimed as a line entry on the return. The special Form 1040A for individuals not required to file will not be provided.  The IRS will provide an online resource for taxpayers to check the amount of the advanced payment they received in 2008.
 I've some information on casualty losses for a federally declared disaster area.  The 10% of AGI reduction does not apply to personal casualty losses that occurred in a federally declared disaster area. In addition, these losses (net of any casualty gain) may be claimed as an additional standard deduction (no need to itemize). Applies to disasters occurring in 2008 and 2009. This Will result in larger casualty loss deductions for affected taxpayers.
The Federal government is implementing Midwestern Disaster Area Relief.  There will be significant relief available to victims of the 2008 severe storms and flooding that occurred in the Midwest. Special relief is provided for losses that occurred in the core areas of those disasters.  The big question is that people may not have a clue or get confused as to what a core area is.  At this point my guess is that there will be specific cities, counties, etc. defined.
EITC—Combat pay Election.  The election to treat nontaxable combat pay as earned income for EITC purposes was made permanent. This was a nice choice option for servicemen and women who could help qualify for the Earned Income Tax Credit.  I am glad it was made permanent since they put their lives on the line for this country.  They should get something for it.
IRAs– Charitable Contributions
The exclusion of taxable distributions of up to $100,000 from IRA funds contributed directly to a charity was extended through 12/31/09.
Sales Tax Deduction The deduction for state and local sales taxes in lieu of state and local income taxes was extended through 12/31/09.
What else is in the pipleline or changed…
PMI Deduction The deduction for mortgage insurance premiums paid on a qualified residence has been extended through 12/31/10.
Tuition and Fees Deduction The deduction for up to $4,000 of higher education expenses was extended through 12/31/09.
Teacher's Education The $250 educator expense deduction was extended through 12/31/09.  Jeeze, this was a no-brainer.  It was killing me that they didn't extend it forever.  Without teachers our nation would be in deeper problems than it is now.
Nonbusiness Energy Property Credit (for windows, doors, etc)
The credit for up to $500 of home improvement costs was NOT extended for 2008. It was extended for 2009 only. The 2009 credit includes biomass (corn, wood pellet, etc.) heating systems. Individuals who installed new windows and doors on the assumption that the credit would be extended for 2008 will be angry. 
As more things change or get better defined I will continue this random series of articles in my blog.  Drop me a line if you want to know more.
Remember that none of these changes actually change what is happening with your income stream.  Protect yourself, save money and be ready to continue gutting things out until the economy gets better.  Just a reminder that the deadline for the next carnival of special needs and money is coming up as well.  Write our Congress and our President Elect and tell them to keep on it!
  Practical Money Making-Surviving Recession, Layoffs, Credit Problems, Generating Passive Income Streams, Working Full Time or Part Time and Retirement
Kim Isaac Greenblatt
Tax Law Changes for 2009 – Part I