A goofy question from a reader to wrap up 2008 in is as follows: "Can I take dead people as tax deductions?"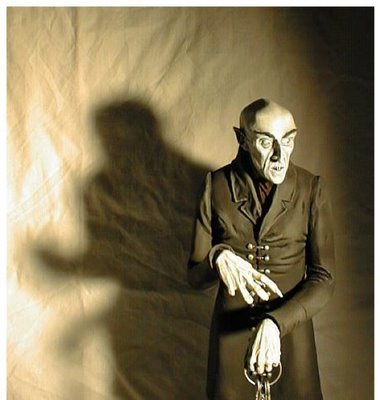 My answer, smart guy, is that in some situations, yes, you can claim dead people as tax deductions.  By the way, if, like in the photo you are considered "undead", for tax purposes you are considered alive and your question is moot. 
If you or your spouse died in 2008, you actually would be filing as Married Filing Jointly one last time for your Federal (and probably respective state) tax returns.  Then, if there were children in the relationship, the surviving spouse could take the Qualified Widow or Widower tax status for the next two years (barring any super changes in tax law from Congress).
The purpose of this is to allow continuity and some relief to the surviving spouse and their family.
Now, if you had wanted to start getting social security numbers from dead people you would be in for a nasty surprise because contrary to what you might think (or maybe you already thought this), the IRS does track dead people.  If a social security number is "retired" or already used in filing, it will kick out the next return that comes in trying to use it.  Electronically it will state that the social security number has already been used.  I don't remember if there is a deceased code specifically but there very well may be.  As a financial fashion tip, one of the first things that the IRS looks at also is the social security number and they have a very good system for cross-checking if something has already been filed or not as I stated previously.  Trying to file tax returns with zombies (or vampires since the dead are coming back to life) isn't a great idea and it may result in the IRS or local state authorities chasing you down like villagers with pitchforks and torches.
Speaking of tax fraud….
People have tried forever trying to claim dead relatives, goldfish, cats, their neighbor's cats, their neighbor's dead relatives and of course, for Earned Income Tax Credit fraud, your neighbor's kids.  The IRS is cracking down hard – and I mean h-a-r-d hard on abuses in EITC and in fraud in general.  My suggestion is to plan on starting the new year right by not trying any shenanigans that you won't get away with anyways.    Use all that creative criminal energy to start up a manufacturing business and let me help you manage it.  If you can think up methods to try and defraud people you should be able to come up with some awesome business ideas and implementations as well.
Just a reminder if you have any tax questions or want me to do your taxes for you – drop me an email or post in my comments section a phone number and/or email address.
Have  Happy New Year.  Be safe, sane, and my usual blessing of be healthy, wealthy, wise and happy for the upcoming New Year!
Interested in any of my books?  You may want to make a stop over  here. Please click through to purchase my books and some other interesting items that actually ARE on sale. If you like poker, Heroes (the TV series), comic books, Watchmen, etc, there may be some fast links to get you to what you are looking for.
 If you are looking for a day job, part time work, suggestions for saving money or investing, please check out my book listed below.  Part of all the proceeds from the sales of that book  go  to Rett Syndrome research.  One girl is born with Rett Syndrome worldwide every fifteen minutes.   My daughter Arianna has Rett Syndrome and we are working to do all we can to make her life easier and find a cure in her lifetime.  Boys born with the Rett gene generally die at birth.
  Practical Money Making-Surviving Recession, Layoffs, Credit Problems, Generating Passive Income Streams, Working Full Time or Part Time and Retirement
Kim Isaac Greenblatt
Can I take dead people as tax deductions?