Hope you are having a happy holiday. Today there will be a lot of day after Christmas sales. A lot of stores that have a web presence have already started running their items on the Internet to get a heads up on their holiday sales.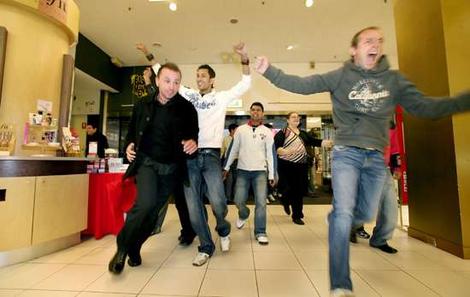 I can't blame them. With the economy in flux, retailers are doing whatever they can to make money. Your best way to profit from this is to look at all the sales and actually see if there is a bargain in what you are buying. One example from Game Stop, for Friday, was a Guitar Hero World Tour for $189. Prior to Christmas you would see that it is the exact same price. Obviously, if you are reading this blog entry six months to several years later you will see the system discounted because there will be a new "latest and greatest" but the interesting thing to note is that there is NO sale price on this item.
Hot selling items aren't being treated as loss leaders this year or if they are, the items are few and far between because retailers just can't afford it. A loss leader is something that a retailer sells that will not generate a profit and they may in fact lose money on but they advertise and sell the item because it drives customers into their store.  There are a lot of people who just love to shop and they don't mind waiting in lines for saving a few dollars.  I've tried that for a few sales and depending on what you are trying to buy (a Sony PSP, back a few years ago), there is a fun feeling about getting the item at a sale price but after awhile, especially if you are watching you pennies and your health waiting outdoors for sometimes hours in bad weather, you have to ask yourself if it is worth your time, health and energy. 
But that is the power of a good loss leader.  It will draw customers out for whatever the hot thing of the year happens to be.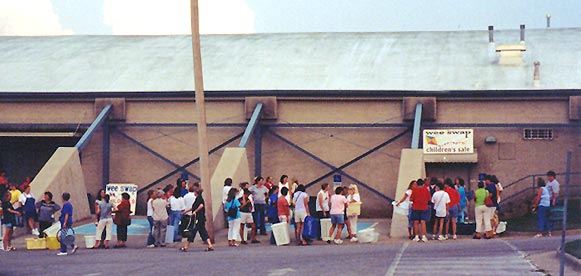 The stock market will be open and even though there will be light training there may some opportunity to pick up not so much as a loss leader but an undervalued leader. Yes, folks, I am still talking about looking for bargains in premium stocks. If the balance sheets look good and even if their sales are down, the company may be a good investment.
Just like a day after Christmas sale, the stock market has been hammered down like shoppers tearing through the shelves and store racks looking for bargains. Because people are gun shy and there are so many companies oversold, I think there are more bargains to be had in the stock market than in the stores this year.
You may want to do your own due diligence and be the judge yourself on that.
Watch whatever it is that you are buying and add to your positions slowly.  There may be a lot more downside to the stock markets and you may want to consider just jumping in and out of a stock though if you have the element of time and can afford to wait, you've picked some good companies, that is where you make money.  Eventually there will be some sort of recovery.  As to what it will be or when are the million dollar (make that trillion dollar) questions.
On personal notes:
If you are driving and going out in the cold, dress warmly. Be careful for snow and rain. For those of you fortunate enough to be in warmer climates, be cautious just the same. A lot of people may be recovering from too much booze or worse, they are still drinking. Don't drink and drive, gang-I know you already knew that but just a reminder.
I've also started up a book sales page here. Please click through to purchase my books and some other interesting items that actually ARE on sale. If you like poker, Heroes (the TV series), comic books, Watchmen, etc, there may be some fast links to get you to what you are looking for.
 If you are looking for a day job, part time work, suggestions for saving money or investing, please check out my book listed below.  Part of all the proceeds from the sales of that book  go  to Rett Syndrome research.  One girl is born with Rett Syndrome worldwide every fifteen minutes.   My daughter Arianna has Rett Syndrome and we are working to do all we can to make her life easier and find a cure in her lifetime.  Boys born with the Rett gene generally die at birth.
  Practical Money Making-Surviving Recession, Layoffs, Credit Problems, Generating Passive Income Streams, Working Full Time or Part Time and Retirement
In any event, hope you are having a safe, happy holiday and are healthy.
Kim Isaac Greenblatt
Day After Christmas Sales Continue