Question from a reader:"Why do we have such lousy service at fast food stores, department stores and any other service store that is still in business?"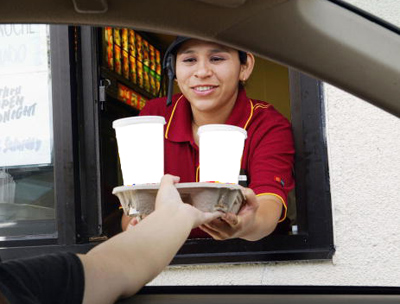 As the photo above shows, not all service is done poorly.
My answer is that because nobody takes the time to teach children (who become teenagers) the basic work ethic.  The deal is that if you want to make money, you need to provide a service or product for somebody so they will want to do business with you again.  There is no magic to the formula but television, radio, the Internet and general yuck yuck attitude of people (and yes, parents, I am talking to you for not taking the time to teach your kids this stuff) have created many generations of people who are only working their job until they sell their screenplay, get hired as a top model, sell enough marijuana to quit their dayjob, etc. 
I am not talking about every child or teenager.  There are a lot of good and even great people who are working at fast food windows, electronic and department stores who take the time and give great service.  The problem is that when you have mostly mediocre to lousy service you tend reinforce the bad. 
The reason I am not ragging on adults is because most adults who are working can still force a fake smile and realize that in their most jaded nightmares that they still need to work.  You will see them trying very hard to do whatever it takes to keep themselves working and gainfully employed in our New Depression economy.
Folks, take five minutes and start getting your kids to say "please" and "thank you".  Tell them to ask what they can do to help their customers or take the time to read their job scripts and make them their own with a positive attitude.  Life is more than videogames, skateboarding and whoring it up.  Well, maybe not much more but come on, gang, we need to ramp up our service industry a notch or twelve.  We are in a Depression and there is a lot of competition for work.  Employers will start laying off the slackers and problem children soon enough if they haven't done so already.
So, to answer your question, the problem has been there for awhile, it just is more annoying when the economy is lousy and you have to part with hard earned or scarce money and aren't getting service for the service that you are supposedly paying extra for.
Ah, also tell your kids to turn off their cell phones, no texting, and to pay attention while at work.  They are their for the benefit of their employer and not their hotty boy friend.  Don't forget to arrive on time.  Employers don't need to hear excuses because you didn't plan accordingly to make it to your job when you should have been there.  There are plenty of other teenagers and even retired people who are anxious to fill your position.
And parents?  We already know that teenagers are already doing a great job trying to juggle hormone changes, body changes and dealing with school problems.  Don't add to their issues by setting a crappy example with dealing with others.  Children and adults learn by example.  Remember to set a good example and then on top of that, set a better example. 
You will be remembered by your actions probably more than your words.  Trust me on that.
Happy Working!
March 31 2009 mid day
Interested in any of my books?  You may want to make a stop over  here. Please click through to purchase my books and some other interesting items that actually ARE on sale.   Have you read my book, "Bad Tax Idea, Good Tax"?   Please order it today.  The tips inside can save you hundreds if not thousands of dollars!
 If you are looking for a day job, part time work, suggestions for saving money or investing, please check out my book listed below.  Part of all the proceeds from the sales of that book  go  to Rett Syndrome research.  One girl is born with Rett Syndrome worldwide every fifteen minutes.   My daughter Arianna has Rett Syndrome and we are working to do all we can to make her life easier and find a cure in her lifetime.  Boys born with the Rett gene generally die at birth.
  Practical Money Making-Surviving Recession, Layoffs, Credit Problems, Generating Passive Income Streams, Working Full Time or Part Time and Retirement
Kim Isaac Greenblatt
Teaching Work Ethic To Teenagers and Children