This is one of the best deals for anybody with a Curio & Relic Federal Firearms License ( 03FFL ). The bound book holds over 440 entries as single line entries over an entire page. Each page is sequentially numbered in compliance with the BATF. This bound book helps you comply with being a happy and legal historical firearms collector. Made in the United States of America. Part of the proceeds from all sales go to research a cure for Rett Syndrome. Rett Syndrome is a syndrome that affects one girl born worldwide every 15 minutes. Boys born with the Rett gene die at birth. Part of all sales by Kim Greenblatt Publishing go to help find a cure and better the lives of girls with Rett Syndrome and their families.
The Curio & Relics FFL 03 Bound Book published by Kim Greenblatt is out now. Click here for a larger image of the book cover. The price is a very reasonable $9.99 plus shipping and handling. California residents will have to pay sales tax. You can order the book in the United States of America here.
It is also becoming available with Amazon, Barnes and Noble and can be ordered from fine bookstores anywhere.
Drop me a line if you have any questions (email is at the bottom of the page and in the Subject section put C& R FFL03 or you will not make it through the spam filter), comments or things that you wanted to see in the book. )
***** PART OF ALL SALES GO TO RETT SYNDROME RESEARCH.*****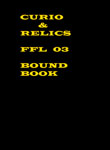 General Title Information
Publisher: Kim Greenblatt
Imprint: Kim Greenblatt
ISBN/SKU: 1606220047
ISBN Complete: 978-1-60622-004-7
Status: Available
Title: Curio & Relics FFL 03 Bound Book
Book Type: B&W 8.25 x 11 in or 280 x 210 mm Perfect Bound on White
Page Count: 118
Publication Date: 12/2/2009
Language: English
Subject Code Description
1: ANT016000 Antiques & Collectibles : Firearms & Weapons
2: HIS027080 History : Military – Weapons
Market Pricing United States 9.99 USD
Have a great time collecting and be safe. 
Dec 12 2009
Kim Isaac Greenblatt
Curio and Relics FFL 03 Bound Book Out Now