Here is a sweet bargain in tracking business expenses, mileage and planning your monthly business budget for income tax purposes. The Greenblatt Business Expense and Mileage Log Book allows for up to 18 months of entries to help you document and track your self-employment business expenses for income tax puposes. The book also has entries for logging quarterly estimated income tax payments for the Fed estimated taxes and up to 3 States estimated tax payments. No other book or log on the market has anything like it.
The book is broken into 18 sections where you first can log your budget planning versus your actual expenses, your business mileage, your medical and charitable miles and has room for extra notes. You enter the months and years so stock up on several copies. If you have ever been audited by the IRS or respective state taxing authorities you already know that you need to have great documentation.
This log can help you as well as remind you to track your receipts. The cost of this book may also qualify as a business expense for your self-employed business. Just keep this log book in your car, shoulder bag, knapsack, iPad case, or anywhere where you need to easily track your business expenses.
Kim Isaac Greenblatt has been successfully helping people prepare taxes for over eight years and is also the author of several best sellers including "Bad Tax Idea, Good Tax Idea". Part of all sales from all of his books go to researching a cure for Rett Syndrome. A girl is born with Rett Syndrome once every fifteen minutes. Boys born with the Rett gene usually die at birth.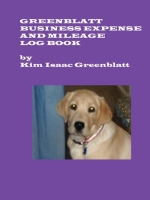 Publisher: Kim Greenblatt
Imprint: Kim Greenblatt
ISBN/SKU: 1606220055 ISBN
Complete: 978-1-60622-005-4
Book Type: B&W 8.25 x 11 in or 280 x 210 mm Perfect Bound on White
Page Count: 88
Market Pricing United States 9.99 USD
The GREENBLATT BUSINESS EXPENSE AND MILEAGE LOG BOOK published by Kim Greenblatt is out now. . The price is a very reasonable $9.99 plus shipping and handling. California residents will have to pay sales tax. You can order the book in the United States of America here.  It also is available from Amazon, Barnes and Noble and the usual Internet and brick and mortar places.
After all, how can you resist a cute picture of Angel, our purebred Labrador Retriever?  Stay healthy and happy gang.
Kim Isaac Greenblatt
Greenblatt Business Expense and Mileage Log Book Now Out
Tags: 978-1-60622-005-4, Business, Greenblatt Business Expense and Mileage Log Book