Happy New Year, gang! Special thanks to my Rose Parade team (in no particular order) – Steve, Luis, James, Thomas, and the lovely Diana.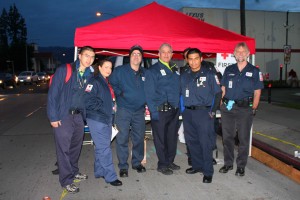 Pictured above are: Steve, Diana, me, James, Luis, Thomas (behind Luis boo hiss), and my leader, Ralph.
Photograph is by Steve. If a man is defined by the people around him, thank you guys and gal for making me look so good.
Hope everybody is doing well with the New Year. Apparently, Congress is trying to earn their money by getting the fiscal cliff flattened out. Here is hoping we don't get flattened in the process.
Now is the time to start getting all your receipts together gang as well as anything that created income or a tax related document to bring in to the office – yep, it is tax time.
I would expect that e-filing will probably be delayed and the state income tax processing will be pushed out even further in terms of getting the e-filing procedures updated. I guess will shall wait'n see. Now is the time if you have questions to give me a call.
Also start the new year right and start volunteering with something. It doesn't have to be doing first aid – anything that helps make the community better around you is a great resolution for the new year.
What else in my stream of consciousness —oh yes, if you are in the market for buying a new home or in process, please remember to save all closing documents and papers so your tax pro (hopefully me) can go through the stuff with you and see what is and what isn't deductible. If you are getting a home – congrats!
Don't forget that you can take charitable miles if you drove to help volunteer for an event. They go on Schedule A and if you don't use Schedule A it may not make a difference but it is always a decent move to track mileage for any volunteering you do. Good habits stay forever and one day you may need it.
Be safe, people.
January 02 2013
Kim Isaac Greenblatt
Tags: Business, Rose Parade, taxes