Today, as part of our New Year, new approach to doing things (which hopefully will be better than last years for all of us), we will start the talk about business, money and economics with a washer and a dryer.  Before I hear the jokes and jeering about "cleaning up" our "laundering" cash, I want to point out how my recent purchase of the machines reflects on our economy.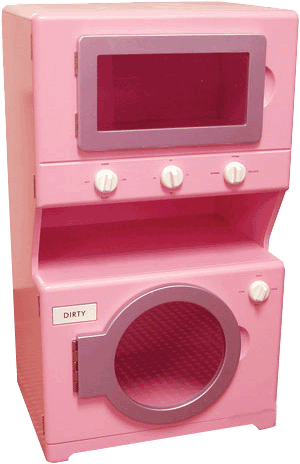 I ordered a few days ago a new washer and dryer.  It wasn't as simple looking as the one pictured here.  I had to get with the units two podiums for the machines to rest on so that Sharren and I won't break our backs.  After all,  the new machines are front loaders and they are big.  I was able to order them from Sears and they matched prices with Best Buy.  There are rebates to be mailed in and so far so good.   Like most Americans, I looked for bargains and figured after the holidays that this would be the ideal time to check things out.  The upside was making me feel pretty good about myself and my decision to get the goods now.
The downside was the sticker shock.  Yes, our previous washer and dryer were over 6 years old but the motors sounded like they were twenty years old.  That is funny because our fridge is about 20 years old and that is still running great though I want to get around in half a year's time to replace it with a more energy efficient model.  To get a nice washer and dryer that are energy efficient, manage water correctly and efficiently, dry quickly, etc has run me almost three thousand dollars.  I had to swallow hard when I made the purchase but the hope is that the machines will save me money, energy and time over at least 7 years.  I broke down and got the warranty on the machines only because I have experience with the electronics in machines these days and even though there aren't any moving parts, fuses, bulbs and sensors blow.  I also didn't buy the top of the line models which would have set me back another $800 or so for a slightly faster rpm cycle machine and an LCD monitor (something else to break or get scratched).  Thanks to my friend, Debbie, for going along and helping me do the legwork and research in getting the new machines which was almost as hard as looking to buy a new automobile.
In the current economic environment, as people have machinery break down, the first thing they will do is try to fix the machine.  I am all for that.  In the case of my washer and dryer, it wouldn't have been cost efficient.  The same holds true for automobiles.  On a used car, at what point do you decide, okay, I don't want to spend three thousand dollars to repair the engine and I will put that money towards a new car.  The plus side is you will get a new car, generally no major repairs for about five years, etc.  The downside is that you are now a little deeper in debt trying to pay off the balance on that new car.  My answer is that sometimes you need to bite the bullet and buy what you need.  Trust me, I wasn't thrilled with the idea and have scrambled as to where the money is coming from in the budget to cover the unexpected expense.
What price can I put on Sharren and I having to wait hours for clothes to dry or washing things?  Do we want to spend our entire weekends just washing clothes?  Those of you with kids (or wardrobe animals) know what I am talking about.  To be able to have clothes ready in an hour or two is a modern industrial society miracle. 
People know that and that is why they pay for the higher end machines, new machines and last year's models if they go on sale to replace their old machines.  That tells me that despite the bad news, doom and gloom, people are basically people (like the old song) and if they need to replace something, they will go ahead and do it.  Yes, people will do without but at a certain point, if you are trying to take care of your family and can save time by having a washing machine and dryer that work and can get the laundry done while you are changing diapers, going grocery shopping, mowing the lawn, cooking, etc, it is worth the expense.
Most of the machinery is not made in America any more.  Ah.  So my suggestion is that we seriously look into getting back on track on producing products here in the United States.  America needs to get back on track with manufacturing, creating goods as well as services inside the country.  In the long run it will be a win-win situation for everybody.
The machines will be delivered later today, so by the time you are reading this,  the should be installed.  I will write more about the perils of buying new machinery later on if something comes up with them.
 Interested in any of my books?  You may want to make a stop over  here. Please click through to purchase my books and some other interesting items that actually ARE on sale. If you like poker, Heroes (the TV series), comic books, Watchmen, etc, there may be some fast links to get you to what you are looking for.
 If you are looking for a day job, part time work, suggestions for saving money or investing, please check out my book listed below.  Part of all the proceeds from the sales of that book  go  to Rett Syndrome research.  One girl is born with Rett Syndrome worldwide every fifteen minutes.   My daughter Arianna has Rett Syndrome and we are working to do all we can to make her life easier and find a cure in her lifetime.  Boys born with the Rett gene generally die at birth.
  Practical Money Making-Surviving Recession, Layoffs, Credit Problems, Generating Passive Income Streams, Working Full Time or Part Time and Retirement
Kim Isaac Greenblatt
New Washer Dryer Economics
Tags: Business, dryer, economics, manufacturing, money, washer