With cars piling up in airports, loading docks and filling the remaining car dealerships to capacity, this is a great time to get a car.   Yes, here in Southern California sales tax is going up.  Big deal.  You can probably find some decent values in autos to offset it and some dealerships, like the Kia dealerships are offering buy one car and get the second one for $5000.  That is for 2009 and 2008 models, folks.  Other dealerships are offering different deals at different price points including high end luxury car prices being cut in half.
The US government is backing GM cars with the US warranty so it seems like it is a great time to think about getting something with wheels now, even if it is a reworked covered wagon.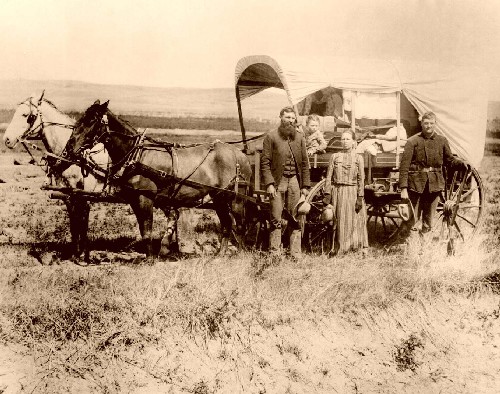 Check out that proud family and their wheels.  They not only have the convertible model they have a two horsepower engine.  Hopefully when you go to get your wheels you will get a few extra horses with your purchase and the warranty will last you a little longer than the life expectancy of the wagons that had to make it cross-country in the old West.
I wonder at what point they just will start giving cars away to get people driving and getting them off the lots, the airplane tarmac and going in general.  Ah, such is the life we are living in a consumer oriented economy without the jobs and cash to enjoy it.  Be safe and healthy and seriously think about taking some test drives.  There are a lot of deals out there and you can justify your purchases as being good for the economy.  I am thinking of getting a car or two and putting one away for him when he is ready to drive in a couple of years.  If I tried that with a horse it would starve.
Be safe, healthy, wealthy and wise!
April 1 2009 midday
Interested in any of my books?  You may want to make a stop over  here. Please click through to purchase my books and some other interesting items that actually ARE on sale.   Have you read my book, "Bad Tax Idea, Good Tax"?   Please order it today.  The tips inside can save you hundreds if not thousands of dollars!
 If you are looking for a day job, part time work, suggestions for saving money or investing, please check out my book listed below.  Part of all the proceeds from the sales of that book  go  to Rett Syndrome research.  One girl is born with Rett Syndrome worldwide every fifteen minutes.   My daughter Arianna has Rett Syndrome and we are working to do all we can to make her life easier and find a cure in her lifetime.  Boys born with the Rett gene generally die at birth.
  Practical Money Making-Surviving Recession, Layoffs, Credit Problems, Generating Passive Income Streams, Working Full Time or Part Time and Retirement
Kim Isaac Greenblatt
Car Deals Galore On The West Coast If You Have Cash