At Arianna's last AYSO soccer practice I was talking with one of the players who had at a very early age discovered the joys of antique collecting. She wasn't talking about collecting furniture, large pianos, tramp art or anything like that.  She was talking about small, older items that she found at swap meets that touched her.
That is a great way to collect things.
People should collect things that they like or appeal to them. I have a friend who loves (when she has the discretionary income) to collect heron art.  She has heron plaques, heron statues, a heron sign and if she could find a way to have them live in her backyard and not migrate would collect herons herself.
The take-away from all of this is there is a joy that you can't put a price on for things that appeal to you.  When I watch the antique shows on cable, you generally find that a lot of people are curious of the value of something but if it is a family heirloom or the garage sale knick-knack that they scored for US $1, they generally won't part with it.  Well, at least they say they won't part with it while on camera.  For all I know they are racing over to collect a check once the digital video has stopped recording.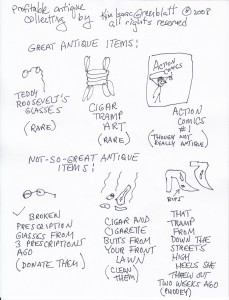 I've talked about this before on the site that there are certain things that you won't want to give away or sell. Others, if there isn't anything genuinely antique and you might want to sell, well, business is business.
When I sold my Watchmen first edition comic books it wasn't that I didn't like them, it was just that I didn't feel a need to hold onto them as much as my Shadow comic from the 1940s.  The Watchmen comics fetched over $300 or so dollars.  The Shadow comic might get me $50 or so but in terms of scarcity, I just treat it like it was a museum piece.  There are a lot less comic books around from the 1940s than from the 1980s-90s.  I remember buying that book for $3 at a thrift store in Cleveland Heights Ohio years ago as well.  I was a lot of money in the 1970s but I also picked up a Dollman comic and a Captain Marvel Junior comic as part of the deal.  It was a nice score.  Would I part with the books anytime?
If I really needed the cash, sure, but the nostalgia value and sense that there is more room for appreciation since they are scarce books is what makes me want to hold onto them.
If you are antique collecting for truly nice antiques, be prepared for keeping them stored and preserved.  Wood needs to be protected not only from the elements (wind, fire, rain) but from critters like termites and the family cat that jumps on the table and starts clawing with her back claws on the surface because it feels so good.
Glass objects need to be secured if you are in an earthquake zone.  If you are in a child zone and your children of all ages are running through the house and not adverse to the occasional rough housing, you may want to think twice about putting the rare china or glass that you found out in public or on the mantle except for holidays or special occasions.
Paintings and anything made of paper has to be protected from being ruined by light.  When I saw the Declaration of Independence in Washington D.C. you can see that compared to some of the other documents that the years hadn't been kind to it – especially since it was on display outdoors for a long time.  You could tell from other documents, like the Magna Carta, that some documents were preserved better than others based on the information and money that was available at the time.  Learn from others mistakes!
People need money these days and you can find some great deals at swap meets, garage sales and some auctions.  Just a reminder that you shouldn't get caught up in the missionary zeal for over-bidding or spending more than you should for your goodies.  Part of the fun for antique collecting is bragging rights that you got the object dirt cheap!
My best thoughts to you with whatever it is you decide and congratulations on taking the time to actually ENJOY whatever it is that you are purchasing.
   Practical Money Making-Surviving Recession, Layoffs, Credit Problems, Generating Passive Income Streams, Working Full Time or Part Time and Retirement
NOTE:  To the readers who wanted to see my no-frills book cover for my book from my first few blogs, here you go.  It should be up on the Internet where my book is available within a few more weeks. Give it time, I promise you will see the image elsewhere.  Thanks for asking!  All of you truly rock.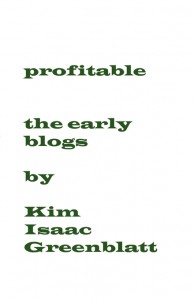 Didn't I warn you that green on white looks funny on white pages?  Maybe I shouldn't be in such a rush to get the cover up.  That is the price one pays for demonstrating generic no-frill book covers.
Kim Isaac Greenblatt 
Talking today about antique collecting in today's market.