PRACTICAL CRAPS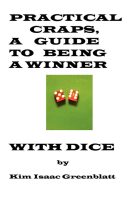 May 20, 2008-. Hi gang! My new non-fiction book, Practical Craps, A Guide To Being A Winner With Dice, is out and you can read some of the sample chapters here.
Please navigate through the pages here or below for the Practical Craps book.
Drop me a line if you have any questions (email is at the bottom of the page and in the Subject section put Practical Craps or you will not make it through the spam filter), comments or things that you wanted to see in the book. )
Go to excerpt from Practical Craps, by Kim Isaac Greenblatt
***** PART OF ALL SALES GO TO RETT SYNDROME RESEARCH.*****
INTERESTED IN CRAZY PINEAPPLE 8/b POKER ? click here.
PRACTICAL CRAPS, A GUIDE TO BEING A WINNER WITH DICE
Publisher: Kim Greenblatt
Published in West Hills , California , USA .
ISBN-10 1606220004
ISBN-13 978-1-60622-000-9
96 Pages US $25.00

copyright Kim Isaac Greenblatt, 2008, all rights reserved.
The book can also be ordered in the U.S. at Amazon or Barnes and Noble.
UK VISITORS can order the book through Amazon UK on the web.

VISITORS from other countries please order through either Amazon, Amazon UK, or Barnes and Noble. When going to the store please request the book by it's title for ordering "Practical Craps, A Guide To Being A Winner With Dice" or order the book by it's ISBN number - either the ISBN-1606220004 or ISBN-13 978-1-60622-000-9 .

Part of the proceeds from the all the book sales go to research for a cure for Rett Syndrome. Rett Syndrome hits one girl born every fifteen minutes worldwide. Boys born with the Rett gene die at birth. For more information visit here

Please check out the other site, Kim Greenblatt Publishing here to order books from - again, part of all sales go to Rett Syndrome research!

Suggestions or comments? Please email the author at kimg@practicallowandnotlimitholdem.com

For the best Craps simulation software on the planet, here is a link to Wincraps, as mentioned in my book.
For more information on Rett Syndrome, click here.

For books on other syndrome and conditions that might be of interest to you or others, click here.